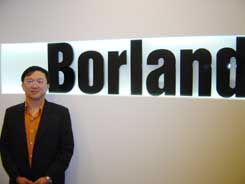 Jirayu Wiriyaphibool
Jirayu Wiriyaphibool, one of Thailand's Delphi gurus and long time Borland supporter
Jirayu Wiriyaphibool Thailand well known Delphi consultant and advisor, and also Borland Product Certified or Borland delphi developer as we familair with as "aJarn" (teacher). Jirayu is Borland Delphi 6 product Certified Developer.
He's a Delphi consultant for many software-houses and many large corp. in Thailand and to a few companies overseas.
* CREATOR (PROGRAMMER) OF POPULAR DOWNLOAD Super Invoice Software (Download.com Super Invoice) which is in top 100 most popular business freeware
* CREATOR (PROGRAMMER) OF JFTinfocenter using JFTdatabase
He have been in software business since early '80 when this technology was at its beginning of recognition and potential. Thailand was a late software market boomer and starting to recognize it's potential in mid '90 and was officially promoted near the millenium (late '90 - 2000).
He is a Delphi and C Builder programmer for WINDOWS and LINUX. He specilized in OOP from a full program DESKTOP programmking, NETWORK programming for large organization database: ORACLE, SYBASE, INTERBASE, INFORMIX, MS-SQL in type of CLIENT/SERVER or program type DISTRIBUTED, or MULTI-TIER.
AUTHOR OF "Delphi Amazing Components" - Thai Language





AUTHOR : Jirayu Wiriyaphibool
REMARK : The first book about Borland Delphi in Thailand
ISBN : 974-85812-6-8
PAGES : 287 include covers
PRICE : 350 Baht.- Please contact us
FREE Book(s) for : Public library, Non-profit organization, please contact us


Contents in This Book (In Brief)

More than meet the eyes

Introducing Delphi
Delphi is OBJECT PASCAL
Why we need to create CLASS LIBRARY
Delphi OOP
Abstraction/Encapsulation/Inheritance/Polymorphism


Writting a CLASS LIBRARY

Create Method by sample TVAT
Test CLASS
Learn about Instance
4P (Private/Public/Protected/Published)

Create OBJECT on the fly

Golden rules of Object components type Dynamic
Learn how to manage Parent Control
CLASS Indirect Inheritance

Writting your first component

Component is CLASS
Learn TObject / TContol / TGraphicControl / TWinControl / TCustomControl
How and Type of Override method
Constructor and Destructor
Important method of TActBtn (SetParent, Loaded Mthod / Component State)


Modifying Component

CreateParams and draw Windows
Using Override Method & Event Dispatch Method
Handle Windows Message (Send / Post)

Compounds Component

Introducing TFilterBox
Write to Method
Use ComponentCount and ControlCount

Learn about Built-In Properties

TDummy and existing property
Built-in Property Editor
Component Wrapper

Aggregated Component

TDBKbd component control keyboard
Create TDBKbd
What is Notification and FreeNotification

Dataware Component

Step by step of handle TFieldDataLink

Component & Win95 Messages

User Defined Message and Component Message
Learn about WndProc

Class Property Editor

Persistant Class and Property
Built-in Class property Editor

Property & Component Editor

Learn about Property Editor and Component Editor
RTTI (run-Time Tyle Information) for Delphi IDE
Learn about TypeInfo and TpropInfo
And Many More....